Are you following precautionary measures recommended by the CDC?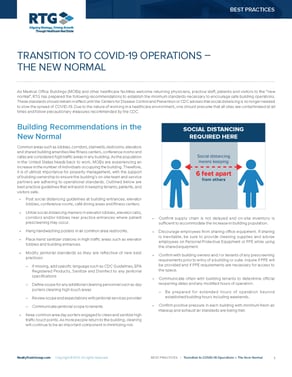 As Medical Office Buildings (MOBs) and other healthcare facilities welcome returning physicians, practice staff, patients and visitors to the "new normal", RTG has prepared recommendations to establish the minimum standards necessary to encourage safe building operations. These standards should remain in effect until the Centers for Disease Control and Prevention or CDC advises that social distancing is no longer needed to slow the spread of COVID-19.
Due to the nature of working in a healthcare environment, one should presume that all sites are contaminated at all times and follow precautionary measures recommended by the CDC.
In this paper, RTG talks about best practice guidelines that will assist in keeping tenants, patients, and visitors safe.
Download your copy today!