Real estate can be a valuable tool to develop long-term physician relationships.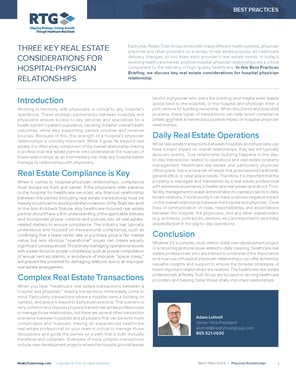 In today's evolving healthcare market, positive hospital-physician relationships are a critical component to the delivery of high-quality healthcare. Healthcare real estate professionals who are trained to understand the importance and nuances of hospital-physician relationships can offer extremely valuable insights and support to ensure the broader strategies of these important relationships are realized.
In this Best Practices Briefing, we discuss key real estate considerations for hospital-physician relationships.
Download your copy today!
To learn more about RTG's Portfolio Management services, visit our website here.