What is the role of a Transition Planner and how can they make your organization's relocation easier?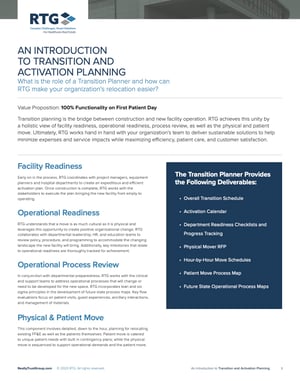 Transition Planning is defined as "the operational and physical relocation of the existing hospital to a new physical plant."
Transition Planning encompasses the relocation of hospital processes and services, staff, materials, and patients in a manner that is expeditious and minimizes interference with current daily operations. A qualified Transition Planner ensures that the transition process goes smoothly through utilization of comprehensive consultation and planning tools. As the facilitator of the transition process, the Transition Planner works to minimize hospital and relocation expenses, as well as validate and deploy operational processes and clinical workflows to maximize efficiency, patient care, and customer service.
Download your copy today!