COVID-19: OIG Extends the Blanket Waivers Issued by CMS to the Compliance Requirements Under the Federal Anti-Kickback Statute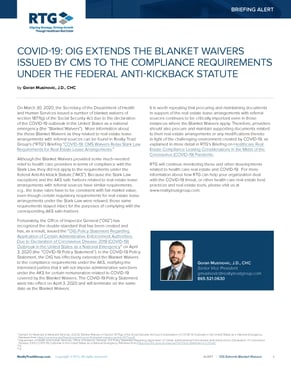 Although the Blanket Waivers provided some much-needed relief to health care providers in terms of compliance with the Stark Law, they did not initially apply to the requirements under the federal Anti-Kickback Statute ("AKS").
In this briefing alert, RTG talks about OIG's extension of those Blanket Waivers to the compliance requirements under the Anti-Kickback Statute.
Download your copy today!