Learn about the many moving parts as it relates to real estate due diligence for healthcare providers.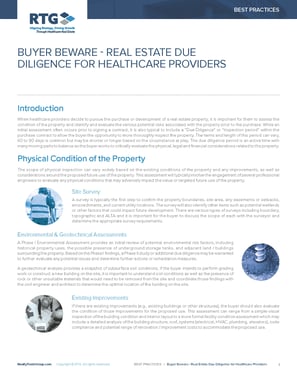 While an initial assessment often occurs prior to signing a contract, it is also typical to include a "Due Diligence" or "Inspection period" within the purchase contract to allow the buyer the opportunity to more thoroughly inspect the property. The terms and length of this period can vary, 60 to 90 days is common but may be shorter or longer based on the circumstance at play.
In this Best Practices briefing, Realty Trust Group discusses the many moving parts that need to be balanced

as the buyer works to critically evaluate the physical, legal and financial considerations related to the property.
Download your copy today!