Compliance Considerations for Leasing in the Midst of the Coronavirus (COVID-19) Pandemic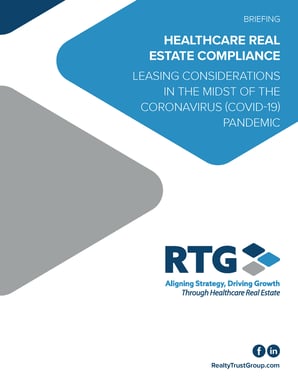 Hospitals and healthcare facilities are ground zero for the fight against COVID-19. Realty Trust Group ("RTG") is supporting our healthcare heroes by protecting real estate portfolios and coordinating campus operations impacted by the virus. COVID-19 is infecting many and impacting everyone. Hospitals and healthcare facilities are being faced with an endless list of unprecedented issues.
These circumstances will likely result in a number of real estate compliance questions; however, in this continually evolving chaos, compliance with the Stark Law, notably a strict-liability statute, is not a priority for most health care providers.

In the absence of further guidance, RTG offers the following briefing outlining considerations for health care providers in the ongoing administration of their physician lease arrangements during these unprecedented times.
Download your copy today!