Learn what makes healthcare property management different.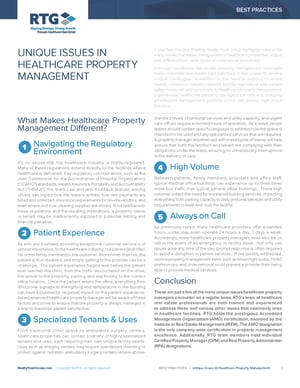 This best practice highlights a few of the many issues that make management of healthcare properties unique and different from other types of commercial properties. Although healthcare real estate property management leverages many corporate real estate best practices, it also presents several unique challenges.
In addition to the need to respond to tenant needs, numerous industry-specific facility regulations and patient safety measures add complexity to healthcare property management.
Experienced healthcare property managers are critical to ensuring an effective management platform in this fast-paced, high-touch industry
Download your copy today!