Discover new strategies that bring new focus to healthcare administration.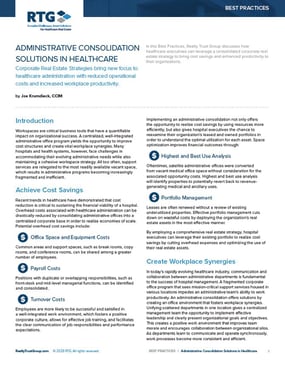 Workspaces are critical business tools that have a quantifiable impact on organizational success. A centralized, well-integrated administrative office program yields the opportunity to improve cost structures and create vital workplace synergies. Many hospitals and health systems, however, face challenges in accommodating their evolving administrative needs while also maintaining a cohesive workspace strategy.
In this paper, Realty Trust Group discusses how healthcare executives can leverage a consolidated corporate real estate strategy to bring cost savings and enhanced productivity to their organizations.
Download your copy today!